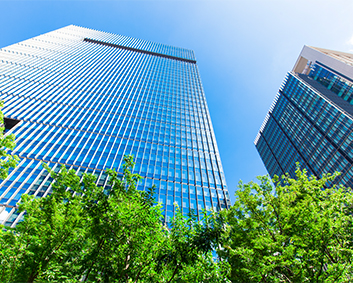 【President's Message】
Thank you for visiting our website.
Since our establishment in 2009 as a specialized trading company dealing with industrial materials for semiconductors and solar power generation, we have received numerous support and patronage from customers within the industry, based on our basic policy of "gratitude and growth".
Despite the up and down economic conditions, our motto of "devotion and commitment" has enabled us to respond to our customer's various requests and share our passion with them.
As a positive thinking company, Trinity embraces the idea of 3C (chance, challenge, change) in order to realize our goal of creating a good environment, a prosperous society and dreams for future generations.
We look forward to your continued support.
President Mingbin Jin
【Origin of our Company name】

Our company name "TRINITY" is a biblical quotation which means "God exists as three persons but in one god".
Hoping that we devote ourselves to business together, our customers, partners and we will be united for further development and growth.
Company Profile
Company Name
TRINITY CO., LTD
Date Founded
April, 2009
Capital
50 million yen  (Owned capital)
Executive
President, Representative Director: Mingbin Jin
Operating officer: Yoshikazu Matsuda
Operating officer: Ken Saito
Head Office
3F ShinjukuYamazaki Bldg, 6-8-5 Shinjuku, Shinjuku-ku, Tokyo, JAPAN 160-0022
TEL : +81-3-5362–7188 FAX : +81-3-5362-7180
Email to : info@trinity-jck.com
Saitama Factory
4-9-3 Idogi, Ageo, Saitama, JAPAN 362-0071
URL
http://www.trinity-jck.com
Approval License
Tokyo Metropolitan Public Society Commission (Antiquary) No.304380908675
Account Bank
Mizuho Bank, Ltd. / Shinjuku Branch
Bank of Mitsubishi UFJ, Ltd. / Shinjuku-Dori Branch
The Tokyo Shinkin Bank / Shinjuku Branch
Business field
Trading of materials and products for Semiconductor
Trading of materials for Photovoltaics
Trading of precious metals and nonferrous metals
Consulting services of recyclable resources
Major Customers
Photovoltaic related manufacturer
Wafer reclaimed manufacturer
Semiconductor related manufacturer
Secondary alloy manufacturer
Liquid crystal related manufacturer
Major Suppliers
Manufacturer of Semiconductor equipment /component /wafer
Front-end process/Back-end process device manufacturer
Polysilicon manufacturer
Semiconductor related trading company
Company History
April, 2009
TRINITY CO., LTD was founded in Shinjuku-ku, Tokyo.
Capital :7 million yen
Sepember,2009
Tokyo Public Safety Commission permission (antique dealer)
No. 304380908675
June,2010
Yokohama factory established in Yokohama City, Kanagawa Prefecture
April,2011
Headquarters moved to Shinjuku-ku Shinjuku 6-chome
Janualy,2012
Capital increased to 20 million yen
June,2012
Establishment of wafer business division
December,2013
Exhibited at SEMICON Japan 2013
March,2014
Factory moved to Ageo city, Saitama prefecture for expansion of business.
March,2014
Capital increased to 30 million yen
Desember,2014
Exhibited at SEMICON Japan 2014
Desember,2015
Exhibited at SEMICON Japan 2015
March,2016
Capital increased to 50 million yen
Desember,2016
Exhibited at SEMICON Japan 2016
Desember,2017
Exhibited at SEMICON Japan 2017